Human Resource Development Programmes
for Africa and ASEAN in collaboration with UNCTAD
What is the United Nations Conference on Trade and Development (UNCTAD)?
UNCTAD was established in 1964. Located in Geneva, UNCTAD is one of the main United Nations (UN) bodies that is responsible for addressing issues related to trade and development, finance, investment, technology, and sustainable development in a comprehensive manner. It aims to maximize the trade, investment, and development opportunities for developing countries, to support them in facing the challenges of globalization, and to integrate them into the global economy on an equal footing.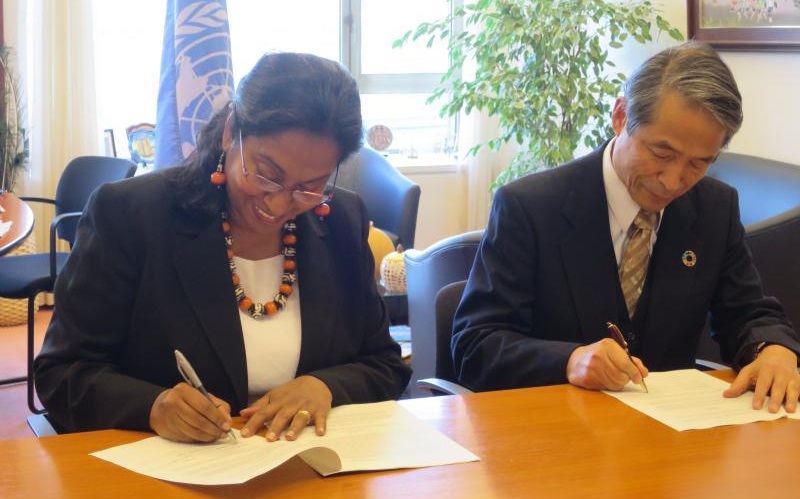 On January 9, 2020, Okayama University and UNCTAD concluded a memorandum of understanding (MoU) for comprehensive cooperation on the development of human resources in science and technology innovation for the Sustainable Development Goals (SDGs) (STI for SDGs), the first of its kind among universities around the world.
The university introduced two human resource development programmes based on this MoU.
1. UNCTAD Short-term Researcher Acceptance Programme
Young Female Scientist Programme in Japan
"Joint Research and Training Course for Young Female Researchers from Developing Countries"
Young female researchers from the Commission on Science and Technology for Development (CSTD) (*) member countries in Africa and under the Association of Southeast Asian Nations (ASEAN) are eligible
Conduct research activities at Okayama University for a period of two weeks to one month
Seven researchers were accepted for the academic year 2020 (two from Republic of Botswana and one each from Cameroon, Egypt, Ethiopia, Madagascar, and Thailand)
2. UNCTAD Long-term Program
(At the Graduate School of Environmental and Life Science and Interdisciplinary Science and Engineering in Health Systems)
"Doctoral degree program for young researchers from developing countries"
Master's degree holders from the CSTD (*) member countries mainly in Africa and under ASEAN are eligible.
Study at the Graduate School of Environmental and Life Science at Okayama University for three years for a doctoral degree.
A student was accepted for the academic year 2021 (from Nigeria)